Looking for a venue to host your next meeting, seminar, or training session, a wedding, anniversary, birthday or social gathering? The Latvian Centre offers the following:
Large ballroom overlooking landscaped gardens, through an all-glass wall
Ballroom with full stage, custom lighting and sound capabilities
Conference and boardrooms, with breakout space available
Two-way live streaming capabilities
Bar with large screen satellite TV and pool table
Wireless high speed internet throughout the building
Air conditioning in all rooms of the building
Fully wheelchair accessible with elevator to all floors
Outdoor landscaped gardens, ideal for photography
Children's outdoor playground
Fully wheelchair accessible ramps
Ample free parking with 70 spaces available
Kitchen
A good sized commercial kitchen with plenty of work space and convenient access by car and LRT. We have ample parking and a range of equipment.
Aprīkojums
Three ovens
12 burners
Grill top
Convection oven
Deep fryer
Walk-in fridge
2 reach in fridges
Freezer
2 Robo Coupe blenders
4 quart and 8 quart tabletop mixers
20 quart mixer
Industrial dishwasher
Ice machine
3 mobile baking trollies
Multiple trollies
Multiple prep tables
An assortment of small wares, bowls, pots, pans, trays, bins etc.
Main Hall "Rīga"
The Riga Hall, on the ground floor and is ideal for larger events such as wedding receptions, concerts, banquets and corporate functions. The hall features a full stage, an old mural and a large glass window wall overlooking a beautifully landscaped garden, patio and playground. The hall can hold 363 people with theater style seating. And is licensed for 312 persons making it ideal for large cocktail receptions. Wedding ceremonies have been performed in this hall, and quickly changed to a banquet.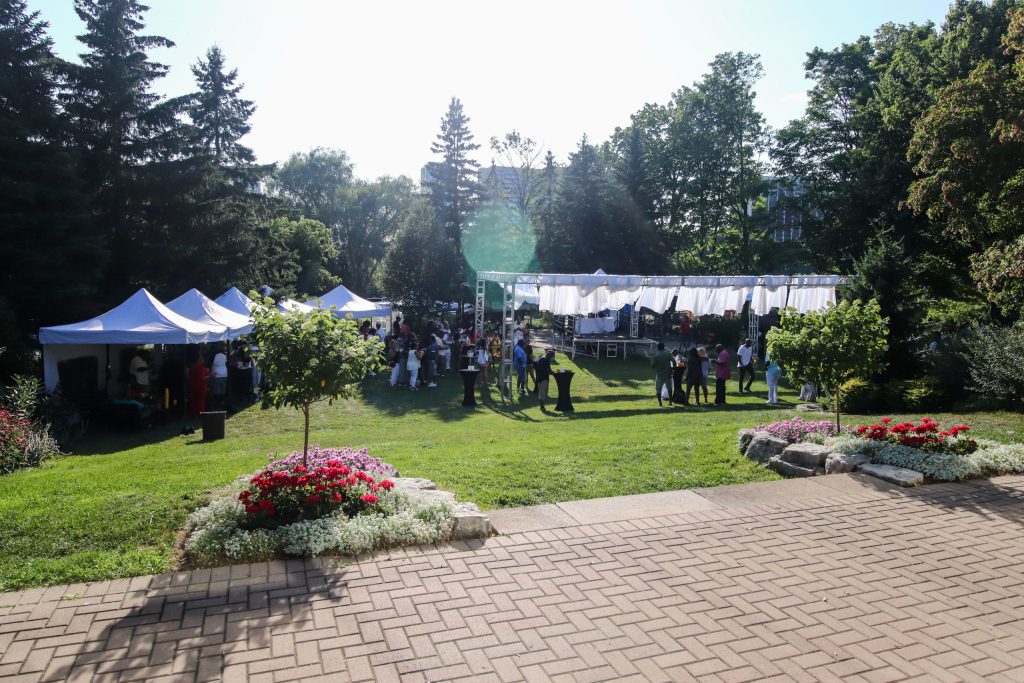 Aprīkojums
Wireless & wired internet
LCD projector & screen
PA system
Wireless microphones
Piano
Bar
Tables and chairs
Medium Hall "Kursa"
The Kursa hall is the perfect size for corporate seminars, receptions, smaller wedding receptions or birthday parties. Located on the second floor, this hall overlooks the Birches courtyard and features an outdoor balcony for those who would like to grab a breath of fresh air. The hall is fully wheelchair accessible by elevator. The hall can hold up to 150 people with theatre style seating, or cocktail reception, and is licensed for 147 persons.
Aprīkojums
Wireless & wired internet
LCD projector & screen
PA system
Wireless microphones
Piano
Tables and chairs
Small Hall "Galerija"
As the name suggests the Gallery is the perfect place for art exhibits. The Gallery can be quickly converted to suit your needs. In addition to art exhibits this hall is ideal for smaller receptions, parties and corporate meeting and seminars. With the light flowing in through two window walls, this hall is perfect for an afternoon affair. The hall can hold up to 80 people with theatre style seating, is licensed for 75 persons for a cocktail reception, and seats about 50 comfortably for a banquet dinner.
Aprīkojums
Wireless & wired internet
LCD projector & screen
Wireless microphones
Tables and chairs
Large Boardroom "Gauja"
The Boardroom is perfect for corporate meetings. With a large solid wood elliptical table and pull down overhead screen, this room is ideal for your corporate gatherings. Like all our rooms AV equipment is available upon request. The boardroom is also perfect for intimate dinners and gatherings. The boardroom is situated next to the Riga Hall with access to the stage. It is often used as a break out and changeroom for stage productions. The table has seating form 22 to 25 and is licensed for 40 persons.
Small Boardroom "Venta"
The Small Board room is located on the second floor directly across from the Kursa Hall. This hall is excellent for smaller corporate meetings, presentations or seminars. As well, it is ideal for luncheons and receptions, and can be used in conjunction with the Kursa Hall as a bar or buffet room. The hall can hold up to 40 people, and is fully licensed.
"Umurkumurs" Pub
Club Umurkumurs is a cozy bar located on the lower level, with both access from the first floor stairs and elevator, and from the parking lot. Both entrances are wheelchair accessible. The pub is available for rent for your private parties. Umurkumurs is a perfect spot to host birthday parties, Christmas parties, Stags, Jack & Jill Showers, or any other event which lends itself to a laid back, relaxing environment.
Class Rooms
There are various class rooms available.